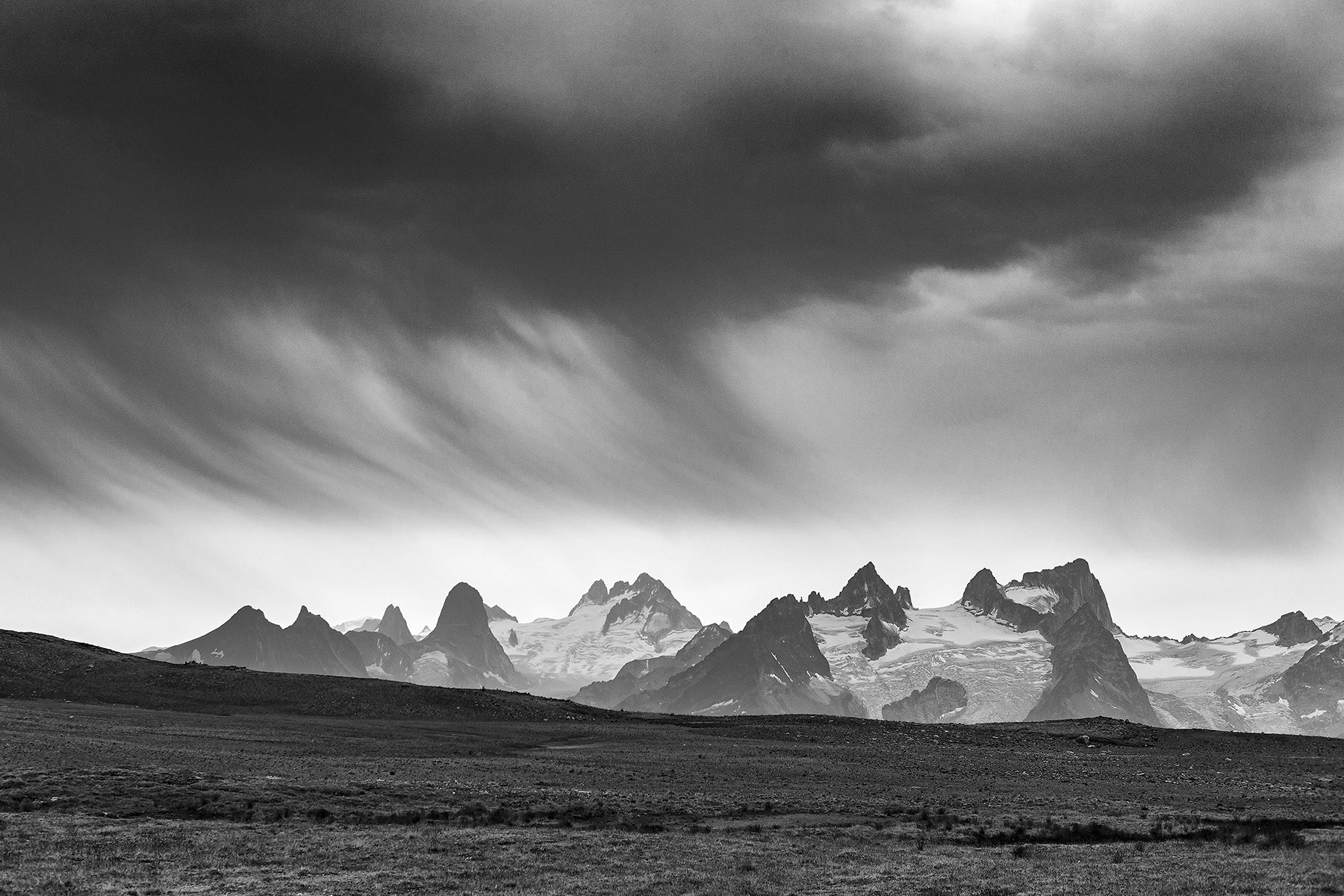 "Mountain Moments"
The Bavin family is excited to present "Mountain Moments" art exhibit at Pynelogs Cultural Centre in Invermere, BC, from March 16 to April 6th.  There will be many art forms on display from the Bavin's, including blown glass and photography by Ryan Bavin, painting by his father Pat, and historical hand coloured black and white photographs by Hal, Pat's late father, Ryan's grandfather.  Shawna Tegart, longtime staff member and friend will be showing her amazing work with porcelain as well as Tina Nowatschin, Ryan's partner, will have glass and lithography on display.
We are excited to be showing the work of Hal Bavin as his work has not been shown in decades.  He was an acclaimed photographer, winning awards, and showing his photographs nationally and internationally, notably at the Brussels World Fair in 1958.  He was a regular photographic contributor to Beautiful British Columbia magazine, showcasing the incredible scenery of the Columbia Valley and its surrounding backcountry.  His wanderings with his camera into the mountains led him to meeting and collaborating with backcountry personalities such as Bruno Engler (Swiss mountain guide and photographer), Hans Gmoser and Leo Grillmair (the founders of CMH).
Hal moved to the valley with his family in 1921 at the age of 8, this year marks the 100th anniversary of the Bavin family living in the area.  The Bavins were carpenters and builders; the CIBC building in downtown Invermere was built by Hal's father Nat, and Hal himself built dozens of residential homes in the valley through his lifetime.  Luckily for us, Hal took up photography early on and as a result has an extensive collection documenting the life and landscapes from the Columbia Valley and surrounding areas from the 1930's through to his passing in the early 1980's.  This collection is maintained and archived by the Historical Society at the Columbia Valley Museum, here in Invermere.  The Bavin's are grateful that the Museum took on organizing and archiving the collection back in 1996.  In particular, Arnor Larson, the photographic curator, has been instrumental in reorganizing and properly cataloguing the collection, which is available for public viewing at the museum.  Several volumes of contact sheets of the 10,000 or so images are stored there.  The museum is always interested in having people come in to help identify some of the people, places and estimate dates of the images in the collection.
It was Hal's passion for photography that we feel sparked the interest to pursue art for later generations of the Bavin family.
Pat Bavin will be showing a series of new work in acrylic paint and collage.  Pat has a long history of time in the mountains.  Since Hal and Helen, Pat's parents, were in the backcountry whenever they could be, it makes sense that this would rub off on Pat and his brother John as well.  Pat went to school at Selkirk College, specializing in Alpine Park Planning.  In the summers of the early 70's he worked with a team creating an alpine park design handbook in the Earl Grey Pass region of the Purcell mountains, then designed and built the Chalice Creek trail near Bugaboo Provincial Park.  During this time, Pat was also involved in the creation of the Purcell Wilderness Conservancy, which is now considered the only intact ecosystem left in southeastern BC.
Pat's commitment to artistic pursuits was realized in 1988 when he opened Bavin Glassworks in Windermere.  Pat had gone to Pilchuck Glass School in 1981, marking our second anniversary to celebrate this year, with Pat starting his glassblowing career 40 years ago.  Up until 1988, Pat had run several businesses in the ski and clothing industries in the valley.  Deciding to pursue art full time led Pat to opening the glass studio in Windermere and shutting down or selling his other endeavours.  Through the 90's Pat continued to build the little glass studio in size and reputation.  Through this time, Ryan, son of Pat and Bonnie, was spending much of his time at the glass studio.  Pat also worked for RK Heliski in the winter as a liaison for tenure management with the Provincial Government.  As Bavin Glassworks grew, the mountains surrounding the Columbia Valley provided the inspiration needed to create unique pieces of glass.  The "Bugaboo bowl" series and "Summit" series are classic examples of work that are made by Bavin Glassworks and inspired by the local backcountry.
Into the 2000's, Pat started taking up painting as another way to express his creative ideas.  Again, the backcountry and local history were themes in his work.  Pat has participated in workshops in a variety of techniques from a variety of teachers which over time have influenced his unique style.  He enjoys being very intuitive while working with paint, preferring to work through a piece like a journey rather than knowing exactly how he wants the outcome to be.
Ryan Bavin will be showing work in photography and glass.  Since Pat has pretty much retired from glassblowing, Ryan has continued to work with glass in the same studio location that Bavin Glassworks has occupied since 2001.  Ryan's work with glass started at the age of 15, working in the studio with his dad in Windermere.  Then, after several years of working in the studio, Ryan started heading to the Pilchuck Glass School in 1996, where sessions ran about 3 weeks, with 5 to 6 sessions running per summer season.  Ryan would regularly head to Pilchuck until 2003 when he focussed on working full time at Bavin Glassworks, and became the main producer of glass at the studio.
Ryan received a camera for his 12th birthday while on a family backpacking trip to Bavin Lake, just east of Bugaboo Provincial Park.  He has been taking photographs ever since.  When he was young, Ryan spent time in the darkroom with his grandfather, Hal.  When Hal passed away, Ryan inherited the darkroom equipment, which he would eventually set up in his own house years later.  Over the years, Ryan has sought to capture the essence of the area he grew up in.  Taking workshops on particular techniques of analogue and digital photography would help to solidify his technical skill, and give him an excuse to continue heading to the mountains, looking for that elusive perfect photo.  In 2008, Ryan started working toward his Hiking Guide certification with the Association of Canadian Mountain Guides.  Also in 2008, Ryan won the Landscape category of the Banff Mountain Film Festival's annual photography competition with his photo of Lake Windermere called "November Moon".  In 2010, he started working summers as a guide with Canadian Mountain Holidays, mostly at their Bugaboo location.  Here he has had the opportunity to work with and take part in workshops of well known artists and photographers from around the world.  Over the years he has averaged about 50 days per summer working in the backcountry, always with his camera at the ready.
Tina Nowatschin, Ryan's partner, grew up in Banff.  She graduated from the Alberta College of Art and Design (now Alberta University of the Arts) in 2003 with a degree in fibre art.  She is also a Red Seal chef, trained at the Stratford Chef School in Ontario, and Apprentice Hiking Guide certified by the Association of Canadian Mountain Guides.  Art has been a primary part of Tina's life, creating and sketching while working in backcountry settings such as Assiniboine Lodge, Lake O'Hara Lodge, and Bugaboo Lodge among others.  She has spent much of her adult life in the mountains.  Tina's keen sense of detail, and willingness to deeply explore artistic ideas, interpreting the natural world and mountain culture makes her artwork unique.  Although Tina's art degree is in fibre art, she has explored several other ways to express her ideas artistically.  She enjoys drawing and design, printmaking, and also works with glass; blowing from the furnace and lampworking on the torch.  Tina enrolled herself and Ryan in a printmaking workshop at Pilchuck Glass School in 2015.  This one week workshop focussed on vitreography, the making of prints using glass plates instead of metal ones.  From this workshop, Tina and Ryan were invited to the University of Hawaii for a residency in the printmaking department over two, two week periods between 2016 and 2019.  Lithography was the focus of the time spent at UH, a deeply technical analogue process using the idea of grease and water repelling each other.  Tina works with glass with Ryan at Bavin Studios, assisting him with larger involved pieces and making her own work when she isn't working in the mountains.
Shawna Tegart graduated from the Alberta College of Art and Design (now AUArts) in 2014 with a degree in ceramics.  She started working at Bavin Glassworks in the summer of 2013.  Shawna's family has lived in the valley since the late 1800's.  She has deep local roots and a keen sense of the surrounding flora and fauna that make up the ecosystems of the area.  Shawna's private studio in Windermere is where she practices her art and creates primarily with porcelain.  Her detailed drawings find their way onto her finely crafted porcelain objects through a time consuming process which she started to develop in art school.  When Shawna is not in her studio she is the gallery manager at Bavin Studios.  She has been working with the Bavins for several years in many capacities, from sales agent to website development.  Her attention to detail and thoughtful approach to the task at hand makes her a great asset to the Bavin team.  

You can find studio demonstrations, interviews and once the show is set up, virtual tours at Pynelogs with Pat and Ryan on Ryan's YouTube channel.
We hope you enjoy "Mountain Moments"!