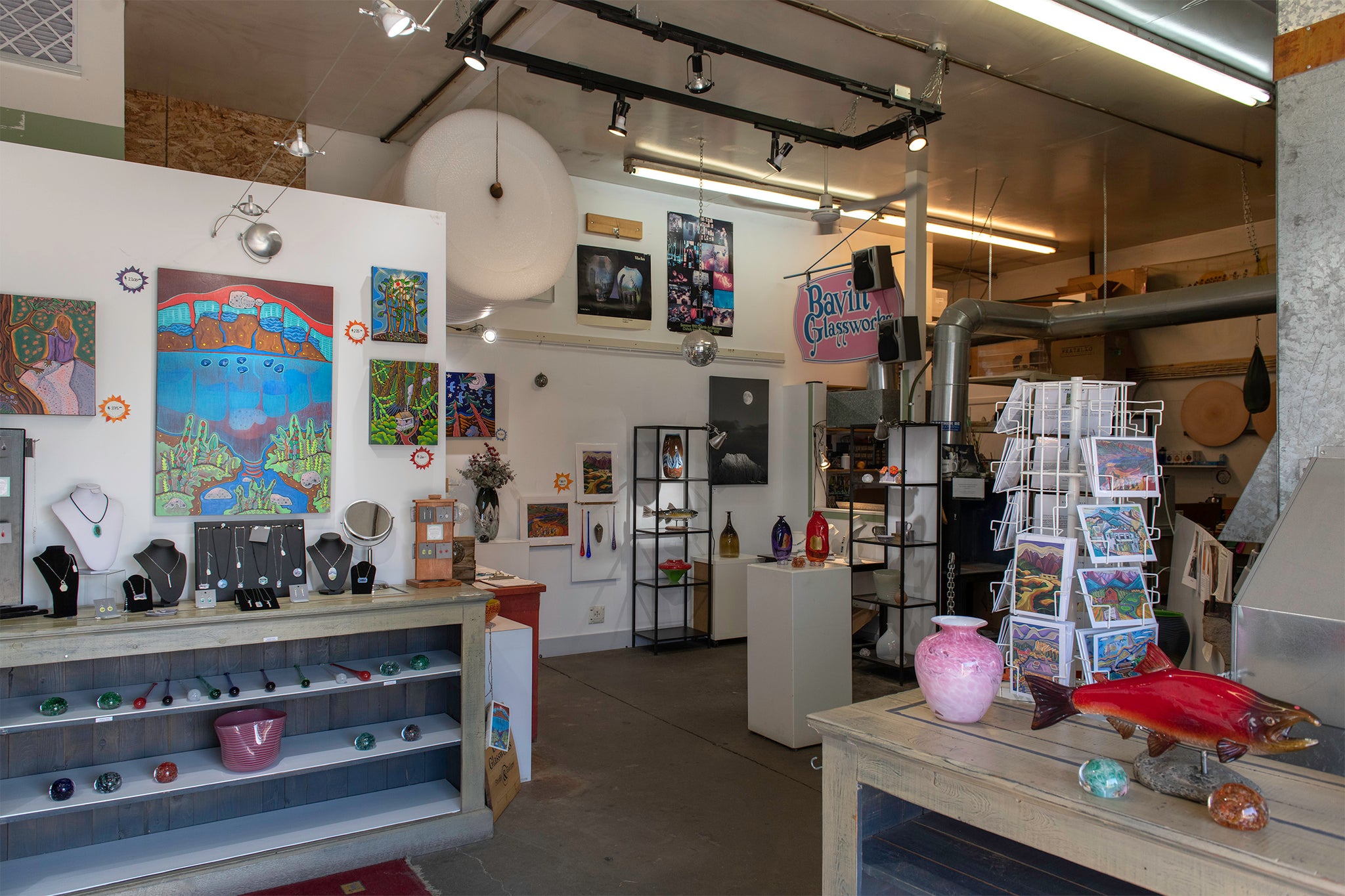 Bavin Studios, Fall 2019
Greetings from Bavin Studios, it's about time we put up a new blog post about happenings in and around our world!  Incase you're confused about the name, we are basically Bavin Glassworks, but since Ryan had to register a new business name and Bavin Glassworks was already taken, he chose Bavin Studios.  So gradually we will be making small changes towards the new name.
Summer seems to be gradually loosing its grip on the valley, that means it's time to fire up the furnace!  More on that shortly, but first a bit of a recap of summer....
We're excited with how or space has worked out!  Having a smaller space has made it necessary to be flexible and creative with how we use the space.  During the summer we expanded the gallery into the studio space to give us a bit more room to move around and display our work.  It was fun to transform the studio into a more gallery-like space!
If you haven't yet been by, and are wondering where we are located, we are actually in exactly the same space, but you have to access it around the back (south) side of the building.  We are currently open 5 days a week, Thursdays to Mondays, from 10am to 5pm.
Ryan was once again spending July and August working in the Bugaboo mountains with Canadian Mountains Holidays.  He works for them as a guide during the hot summer months when it is a bit "uncomfortable" to work in front of a 1300 degree C furnace!
While in the Bugaboos Ryan takes his camera along to capture some of the grand landscapes, and to contemplate artistic interpretation of these amazing places in glass.
Along with working a couple days a week in the shop, Pat has been continuing his practice of Forest Therapy.  He has been taking people on forest walks throughout the summer mostly at Radius Retreat north of Radium Hot Springs, and more recently on a new site at Panorama Mountain Village.  You can learn more about Forest Therapy with Pat here: forest-therapy-with-guide-pat-bavin
Shawna Tegart is our main Studio/Gallery Manager, and when she's not doing that she is working in her ceramics studio with porcelain clay.  Her work is always on display in the shop, and she has new work coming out regularly!  She makes a wide selection of work from vases and cups to jewelry.
Bavin Glass alumni Sheenah King has recently brought some work into the shop and can occasionally be seen working on the torch in the studio.  Sheenah was one of our teachers for the glass bead making program we used to run.
Alright!  So the furnace will be lit up once again very soon.  We should be operational around the 27th of September and running our first full week starting October 3rd.
Stay tuned for info about Thanksgiving Weekend.  It has traditionally been a big weekend for us to wind up summer and kick off the start of glassblowing season!